"The Magma in the body"

Volcano

Etna is a volcano of ancient geological origin with more of 3.000 meters (3.500 yards) of altitude, located in the mid of Mediterranean Sea formed in the millennia century after century, coulee after coulee, ash after ash.
This tectonic difference gives us soils with heterogeneous physical/chemical features. Joining that with different altitude (600 – 1000 m / 650 – 1100 yards) & sun expositions we have particular wines from climax (contrade viticole) with not uniform pedo-climatic characteristics.

Our enviroment has:
• a lot of soils, riches of mineral substance, different lava stones for nature & dimension (the Etna "ripiddu")
• black soil (who holds the daily heat for the cold night)
• high temperature differencial between night & day
• hot sun & very high luminosity
• vineyards altitude from 600 – 1000 m / 650 – 1100 yards
• elevate windy to fresh the vines
• correct rainfall in some locality

New Etna Doc lets us indicate these differences.

Possible Cultivation
altitude, wind, microclimate let us use low quantity of "Copper Sulphate" & "Sulphrum". That's why we can have a natural organic. This is a privilege of the nature of our zone.

The Harvest
The harvest usually occurs between October 5th and 20th. in this period we have low ripening allowing us to choose the perfect day of the harvest.


Contrada
Calabretta winery has got their vineyards in the following "contrada" : Solicchiata/Montedolce, Passopisciaro/feudo di mezzo, Calderara, Taccione, Battiati/Zocconero.
A lot of differences between them.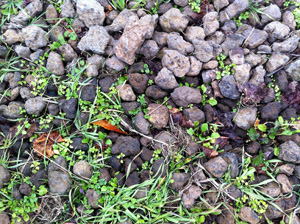 Calderara (in Randazzo): sand soli with a lot of "ripiddu" and a bed of stones on the soil. It gives us elegant, good structure & long-lived wines. The wine needs long aging in big oak barrel.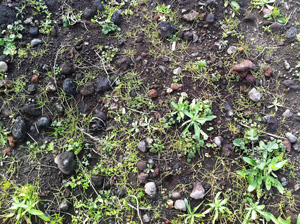 Passopisciaro (di Castiglione di Sicilia): historical contrada of Etna able to express very deep & structured wines. Half aging wine. The soil has lower quantity of stone and higher land & sand. 680 meters.

Solicchiata (di Castiglione di Sicilia): Elegant wines with finest flavours & perfumes. 780 meters alot of quantity of lava sand.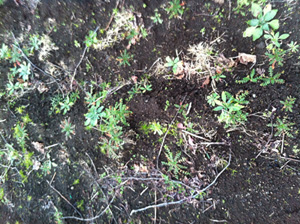 Battisti / Zocconero: 900 meters, a lot of quantity of alluvial sand.

Wines and years

We produce our wines exalting their own "contrada" features: the fermentation & maceration techniques, the long or short aging, the big oak barrel or barrique elevage is not random ! We ponder & reflect !! Experience, experimentation & research is our secret.
We prefer the malolactic fermentation occurs to the white wines, too. We love to use low quantity of sulfur dioxide. So we support the genuineness & drinkability.

Follows a short presentation of our wines, if you like, please ask us our data-sheet at: info@calabretta.net
Our wines: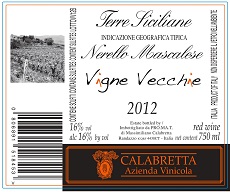 Vigne Vecchie: Etna red aged born in centenarian vineyards in Calderara Sottana e Taccione (Randazzo). Short maceration time in low dimension steel barrel. Features: high acidity, elegance, tannic structure. It aged for long time in big Slavonian oak barrel. Dedicated to the great Etna tradition.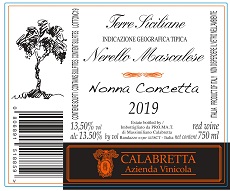 Nonna Concetta: Low quantity of bottle from centenarian and new party in Passopisciaro. Very structured, tannic… Dedicated to my Grand-mother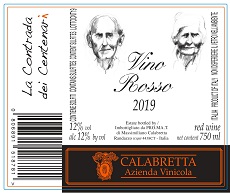 Contrada dei Centenari: from Solicchiata. High fineness & elegance. Dedicated to my grand-grand father & grand-grand mother & to every centenarian people who lived in this town.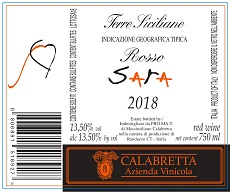 Sara: 50 year old vineyard. Contrada Feudo di Mezzo in Passopisciaro.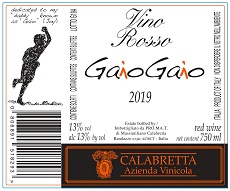 GaioGaio: red wine from young vineyrds in contrada Calderara Sottana. Origin from a rigorous "massale" (ancient vinyards) selection of the vines. A big number ungrafted. Fruit & floreal, light spicy. Beautiful served into the ice. Dedicated to my daddy (Gaio)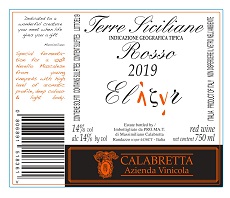 Elisir: young vines vinified with whole grains.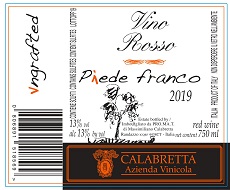 Piedefranco – Ungrafted: new vineyards, origin from a rigorous "massale" (ancient vinyards) selection of the vines. 100% ungrafted. In a extraordinary part of the vineyards !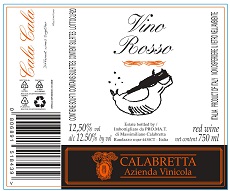 Cala Cala Rosso: multi-vintage wine, a mix of districts, young vineyards and old vineyards. A red like it used to be!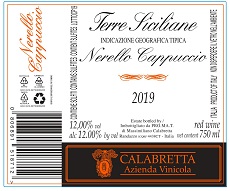 Nerello Cappuccio: less known of his brother "Mascalese", the "Cappuccio"excels for elegance & equilibrium, with a deeper colour. From young vineyards.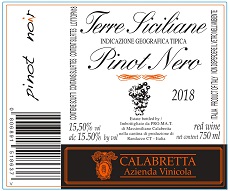 Pinot Noir: l'enfante terrible of wolrd wines comes back to Etna land after the success of 1800 !
New vineyards over 900 m of altitude (1.000 yards)featured by very high temperature range between night & day (more 20° C), impetuous wind & high luminosity & hot sun.
Low quantity of grapes. The fermentation has studied for Pinot Noir.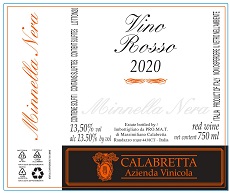 Minnella Nera: rarity ... from a relic vine.
Rosato: rosé wine from young vineyrds in contrada Calderara Sottana. Origin from a rigorous "massale" (ancient vinyards) selection of the vines. A big number ungrafted. Ancient traditional fermentation "Pista & Mutta" (to press = pista & to transfer = mutta) without the solid part we have low colour & low tannin. This was the wine of the farmer… he can drink at once ! Fruit, floreal with structure. Dedicated to the ancient ways.
Carricante Bianco: IGT, mineral & structured white wine from young & ancient vineyards. Classical white fermentation & aged in steel.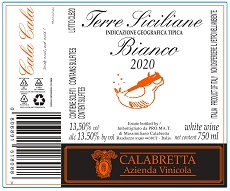 Cala Cala Bianco: fresh and fruity wine with Etna grapes.
Minnella Bianca: the simplicity is her strength… the name is from the shape of the grape (minna = tit) characteristic flavor wit , sulphureous perfume. Light body & minerality.